The need for gainful employment for people with serious mental health issues is being addressed by the Garden Program. People who had been considered unemployable for years or who have never been employed in the past, have had success in the Garden Program and gone on to other employment in the community. This is an incredible achievement for these individuals. The Garden Program also addresses the need for healthy produce for our Brunch Program. Much of the produce grown is used in the nutritious meals provided in the Brunch Program. The excess produce grown is shared with our gardeners, community members and other organizations that offer meals to the community such as OSHARE. The opening of the Food Forest in 2018 allowed the community to access wonderful fresh produce on a weekly basis. We look forward to this program only getting bigger and better!
Our Garden Program is one of our non-government funded programs. If you are interested in becoming one of our monthly Garden donors, please contact Abby Drimmie at adrimmie@cmhagb.org.
Please see below our Fresh Roots Food Forest and Gardens Logic Model to learn more!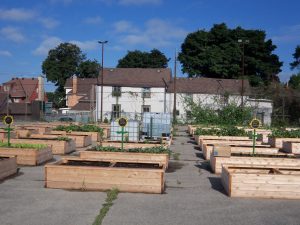 We are very thankful for our sponsors and donors of our Garden Program. Special thank you to the following funders:
– Aviva Fund
– Bruce Power
– United Way
– Community Foundation Grey Bruce
and many more!