Fresh Roots Cafe, 1028 2nd Ave. East, Owen Sound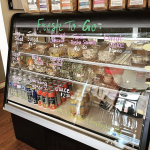 Fresh Roots Café is an innovative social enterprise of Canadian Mental Health Association Grey Bruce. A social enterprise is a business with special social objectives other than maximizing profits as its primary purpose. No social enterprise is successful without support from its community and the Fresh Roots Café has indeed had much support since it opened in January 2022. It offers a warm, inviting atmosphere that's quickly become a popular spot for a cup of Joe and a chat with a friendly patron. When in downtown Owen Sound, stop by to experience Fresh Roots Café.
Café Hours: Monday-Friday, 7:30 am – 2:00 pm (with some holiday exceptions)
---
Fresh Roots Catering
Also under the Fresh Roots banner are the Fresh Roots Food Forest, Fresh Roots Gardens and Fresh Roots Catering. The gardens play a large role in the menu decisions as Chef and his team proudly feature fresh seasonal produce such as lettuce, peppers, tomatoes and zucchini, in their dishes.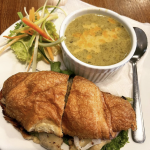 Catering Inquiries:
Olivia Thornton, Café Coordinator
freshrootscafe@cmhagb.org
519-371-3642 | Toll Free 1-888-451-2642
Ext 1282