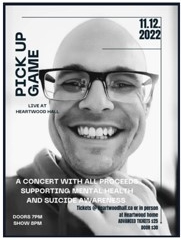 Our hearts are filled to the brim with thankfulness to the Pick up Game Band who planned and hosted a #RyanRemembered Fundraising Concert in memory of their close friend and founder of the band Ryan Norris who tragically took his life this past July.
The concert recently took place on November 17th at the Heartwood Concert Hall and through the concert and raffle draws, the event raised a whopping $ 10,000 in support of the CMHA Grey Bruce ASIST Training Program (Applied Suicide Intervention Training) and those in the community who would like to take the course.
The ASIST Program is a two-day interactive workshop in suicide first aid. Suicide is preventable and as such, at a LivingWorks ASIST workshop, participants learn to recognize signs, how to provide a skilled intervention and how to develop a safety plan to keep someone alive. The ASIST model has been shown to reduce suicidal feelings in those at risk and is an important tool we can put into action to help our friends, co-workers, loved ones and even strangers.
In Ryan's memory, this event shines a light on suicide and suicide prevention and we are so grateful for the support and the hard work the band undertook to hold such a meaningful event.
Our thanks go out to Jay Hoffman (shown here in the photo) and the entire band for making such an incredible difference to our local community. And to everyone who attended the concert or donated – these funds will go a long way to support mental wellbeing locally. Thank you so very much!