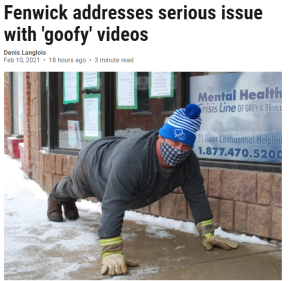 Stacey Fenwick from Owen Sound, Ontario has challenged his friends and families to do 25 push-ups for 25 days for mental health.
We would love for you to participate! Learn more about Stacey and his story through the Owen Sound Sun Times article below:
https://www.owensoundsuntimes.com/news/local-news/fenwick-addresses-serious-issue-with-goofy-videos
How to participate in the Facebook challenge:
The rules:
*Once you are nominated your 25 days starts the following day.
*Everyday you record yourself doing 25 push-ups even if you have to drop to your knees to get 25
*Every day you must nominate a different person.
*Post on social media your video each day