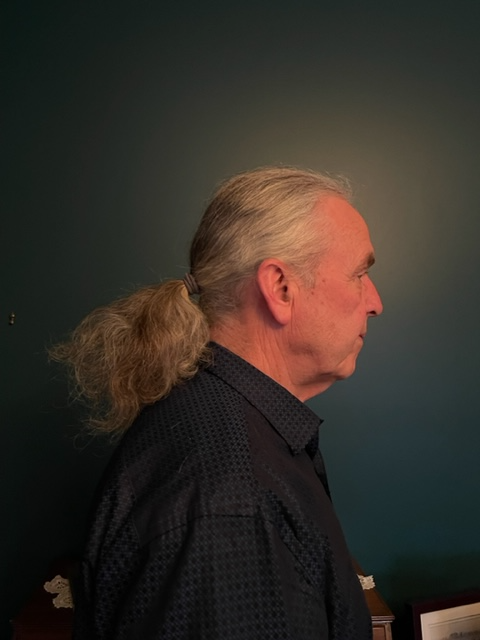 Greetings friends,
I remember March 12, 2020, well. I was at the Tara Curling Club and somebody announced that minor hockey was shut down for the season because of Covid-19 and then the closures snowballed to schools and all social settings being closed.  It seemed unbelievable but was true.
I had my last haircut in January of 2020 before Gwen, my stylist, went south for a few months.  Before she returned I decided that my hair, which was already getting long, was not going to be cut until Covid was over.
Many people have asked how I would know when that would be. I really did not have an answer but now It is two years and three months later and I have decided it is time.  Besides, I had absolutely no idea how expensive the conditioner is!
In the past two years, it seems that my hair has been a great source of comic relief in an otherwise bleak Covid world.  Daughter Heather has suggested that Edith just take the scissors with her to bed and cut the ponytail off while I am sleeping. I thwarted her by letting my hair loose before bed.
My four-year-old granddaughter, Lia, who lives in Oakville and who we rarely saw for two years, looked at me and called me Grandma. My 98-year-old mother, Lorraine, referred to it as "horsey hair". Unfortunately, she passed away before she could enjoy watching the horsey hair be gone.  Her last months in assisted living were pretty hard on her due to Covid-19 restrictions regarding visiting and family get-togethers.
On the plus side, apparently, I am easy to pick out in a crowd.
So, in an effort to create something good and positive to come out of Covid I have decided to cut my hair as a fundraiser for the Canadian Mental Health Association in Grey Bruce.  Money raised will stay in Grey and Bruce and support local programs.
Please click on the link provided and support my effort to have good come from this wild hair. A donation receipt will be sent to you electronically and there are no processing fees.
The haircutting event will take place at the Tara Legion on April 30, 2022, at seven p.m. where any and all are welcome to come and join in the fun and raise a few dollars for very worthy causes.
So please, Pony(tail) Up and help me support the CMHA in their ongoing efforts to help local people in need.
Yours truly,
Ian