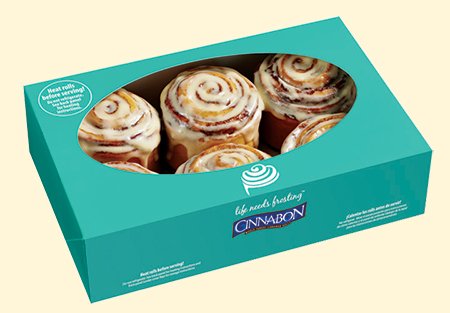 Each November the Youth Awareness programs of CMHA Grey Bruce holds a Cinnabon fundraiser for their programs. This year we are offering a box of 9 Mini-bons, delivered fresh from the bakery for $20, a savings of over $3 off the retail price. Also available are gift certificates for a box of 9 Mini-bons for $18, a savings of over $5 off the retail price.
Orders are due by November 21st, 2022 and we are only accepting orders through our online portal. Pick up day is Friday December 2nd and once again, we will have a Hanover pick up location at our team office at 425 10th street (REAR of building) between 9:30 am and 4pm. Owen Sound pick up is also available from our downtown office at 1024 2nd Avenue East between 8am and 6pm.
For any questions, please inquire to jralph@cmhagb.org.
Thank you for your support.
To place your order, visit:  https://www.zeffy.com/en-CA/ticketing/523f23d7-d7fa-4b5e-abae-6b53c86cc889