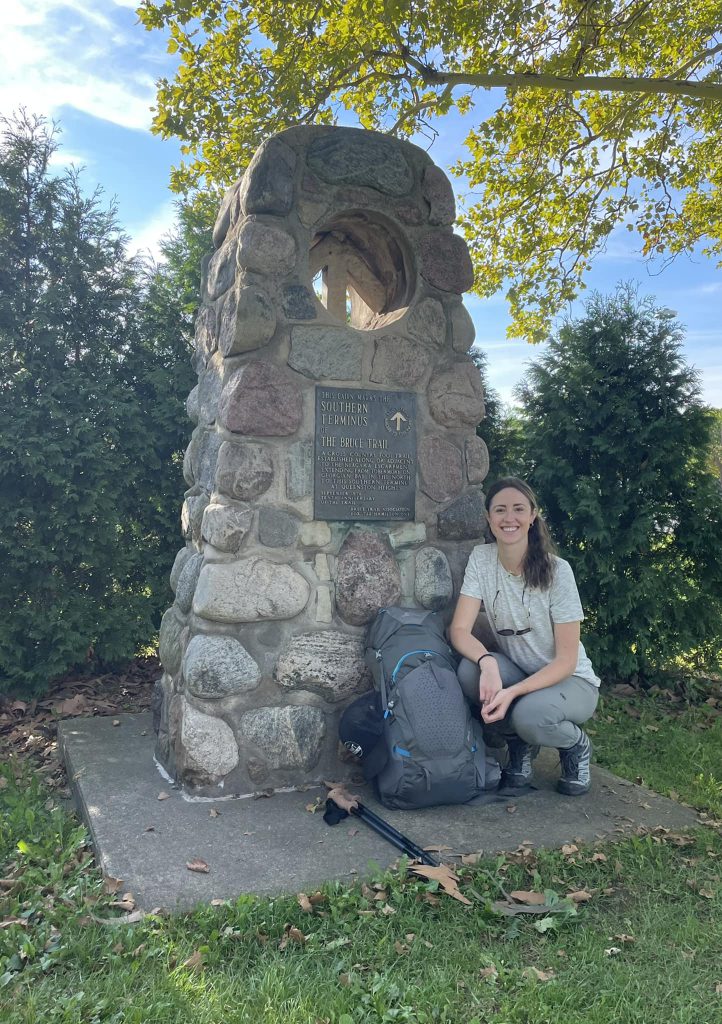 And she's off!!! On September 10th, Olivia Sroka started her journey of a 900 km hike of the Bruce Trail all in support of CMHA Grey Bruce mental health programming. Her fundraiser is called "Get Outside and Live Your Trail for CMHA Grey-Bruce". This photo shows Olivia at the start of the Bruce Trail – the Southern Terminus.
For Olivia, mental health is a cause near and dear to her heart. During the Covid-19 pandemic, Olivia, typically an optimistic and bubbly person, found herself feeling anxious and withdrawn; becoming unrecognizable to her family and friends. As part of her healing process, she began incorporating a walk into her daily routine and realized that the fresh air, the shining sun and surrounding nature all made an amazing difference to her mental health and wellbeing. Through this event, Olivia hopes to shine a light on mental illness while also sharing what an incredible difference the outdoors can have on our mood and physical health.
Olivia's full inspiring story can be found on our website at: https://bit.ly/3A2W7RN
You can also follow her journey on Instagram at: @liv.yourtrail
If you would like to donate to Olivia's campaign and support mental health programming in Grey-Bruce, please visit: https://bit.ly/3poAqHe Donations are also accepted by mail or in person at: CMHA Grey Bruce, 1024 Second Avenue East, Owen Sound, ON N4K 2H7.
A big thank you goes out to Olivia! We appreciate her commitment to mental wellness and all that she is doing. She is an incredible human being!! What a difference she is making!!