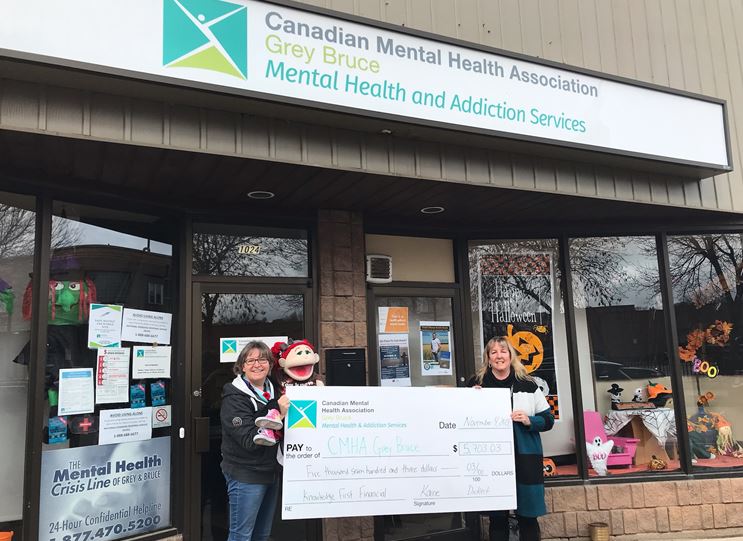 CMHA Grey Bruce was honored and privileged to receive an incredible donation amount of $5,703.03 to go towards our youth awareness and education programs at CMHA Grey Bruce from Knowledge First Financial. Our Youth Awareness Team has been incredibly busy reaching as many youth as they can during the pandemic. From April 1st, 2020, to March 31st 2021, despite a global pandemic the Youth Awareness Team was still able to provide puppet shows and other presentations virtually.
An astounding 1,967 children were reached through their presentations. As well as 1,093 teachers, 3,730 youth, and 30,105 adults were reached. Our Youth Team was also able to put on 55 performances, 167 information sharing presentations, and 79 Let's Talk presentations.
The incredible contest was put on by Knowledge First Financial which has been helping families save for their children's education since 1965. Shortly after the onset of the pandemic, the Spirit 65 contest was an initiative which was spearheaded by the head office in Mississauga. The theme celebrates the company's milestones enabling families to maximize their education savings so students can achieve success throughout their post secondary journey and beyond.  All Knowledge First Financial branches across Canada participated in the contest and each branch selected a charity in which to fundraise for. The McCarthy Balian branch from Cambridge, ON. voted for CMHA since many adults and children's mental health has been profoundly impacted by the loss of in-person socialization due to seclusion and lock downs, loss of jobs and businesses, cancellation of important events and uncertainty of the future. Everyone's hard work and dedication resulted in a significant donation of $5703.03 to the CMHA. At Knowledge First, we all play a part in helping, serving and making a positive contribution to society.