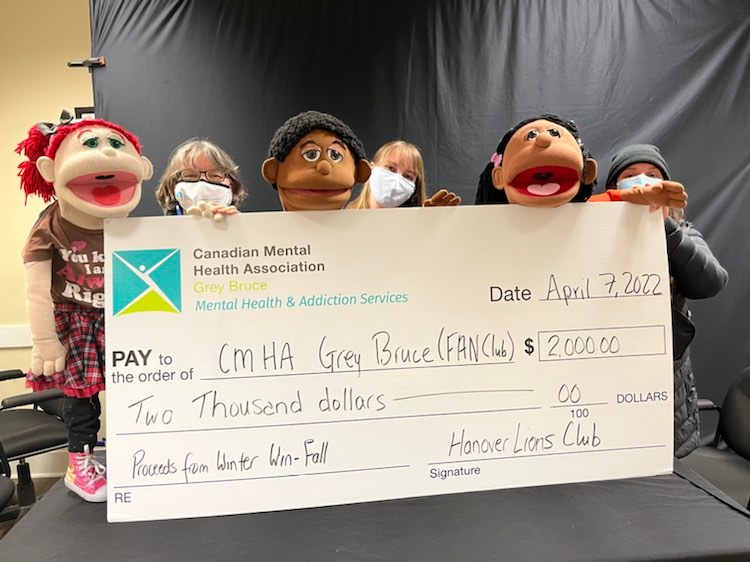 April 25, 2022, Owen Sound: The members of the Hanover Lions Club are incredible members of our community!  The hours of time, the number of miles driven in their vehicles, and a number of phone calls and emails sent are all beyond counting!
Just ask the FAN Club characters of the Youth Awareness programs and they will tell you!
And there are just so many who benefit from their awesomeness!  One of the many beneficiaries is the Canadian Mental Health Association Grey Bruce Mental Health and Addiction Services.
The Hanover Lions Club recently presented the Youth Awareness programs with an incredibly generous donation of $2,000.
Pictured above – Lise Garneau (FAN Club character), Jackie Ralph (Youth Awareness and Education supervisor), Marcus Taylor (FAN Club Character), Madeline Matcheski (OSDSS BWDSB High School coop placement student), Odina Partridge (FAN Club Character) and Sarah Durrer, Talk Today Coordinator) 
The donation was possible thanks also to the generosity of the Hanover community.  The Hanover Lions Club recently held the incredibly popular "Winter Win-Fall" event.  Only 1,000 tickets were sold and the community responded by making the event a SELL OUT!   Hundreds and hundreds of people tuned into the daily Live Facebook draws held in the month of January in anticipation of hearing their names being drawn.  The draws were made even more exciting as they featured special guests from the community and took place in a variety of locations.  Additionally, many of the prizes won were also donated by a long list of community businesses and organizations.
As a result, many community charities and agencies benefited from this fun, exciting raffle, and the Canadian Mental Health Association Grey Bruce is honored to have been one of them.  These funds support the important work of the Youth Awareness programs which include the popular Friends and Neighbours (FAN) Club program, the Let's Talk Intermediate awareness program, and the Youth Net and Talk Today programs.   In the previous 12 months, the Youth Awareness programs provided 209 FAN Club puppet presentations, 231 Let's Talk/Youth Net/Talk Today presentations, 244 information sharing presentations, and 15 pieces of training.  This equated to an audience reached of over 7,920 children, 3,037 intermediate and high school-aged youth, and 18,636 teachers and adults.  The Youth Awareness programs of CMHA Grey Bruce do not receive sustainable government funding and exist solely on community donations, foundations, fundraisers, and grants.
The staff and volunteers and students of the Youth Awareness programs wish to send a Thank You ripple out to the community for the good work and generosity of the Hanover Lions club members and all of those who supported the Winter Win-Fall event in the hopes that the ripple travels far and wide for all to feel, hear and be touched by.
                                                                                                   – 30-