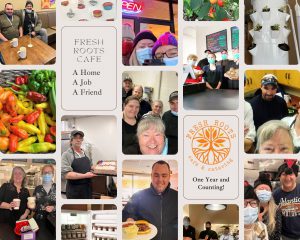 Fresh Roots Café – A home, a job, a friend
One year and counting! "This place was in the works for a couple years and now that we have been open for a year, it has been super successful. We have our regulars, who come in every day. We have groups that come in weekly, and we hook them up with muffins and coffees" shares A from our kitchen. As we reminisce on the past year M from our kitchen shared "Some of my favourite moments are when the café is full, and everyone is eating and having a great time!" It's been moments like these that have made this year so special. The smiles, the laughter and the friendships are many and we hope to continue making memories like these! A full café isn't the only thing that made this past year wonderful. There is nothing that compares to witnessing someone becoming confident in who they are. One of our lead chefs, J comments "I have learned a lot. Cooking was new to me, but Trevor has taught me a lot about how to cook. On days when I am head chef, I like to say, "I'm pulling a Trevor!". A lot can change in one year and we have had the beautiful opportunity to see change happen before our very eyes!
If you haven't heard about Fresh Roots Café, it is definitely something you'll want to experience!
Fresh Roots Café and Catering is an innovative social enterprise component of Canadian Mental Health Association Grey Bruce – Mental Health and Addiction Services. A social enterprise is a business with special social objectives, rather than maximizing profits as its primary purpose. No social enterprise is possible without support from its community!  The Fresh Roots Café has benefited from so much of it!  From grants and donations to a long list of incredible trades and businesses, municipal staff members and vendors and many who volunteered countless hours designing, painting, dreaming and planning, it truly took a village to get to this point!
The Café now employs more than 20 people with mental health experience. Some have never had a job to call their own, and others haven't worked in a long time. One of our kitchen staff, A shared "The first day of work was my favourite because I was so excited to get started. I get to contribute to society and have a nice place to work. The kitchen is relaxed, and all the employees are polite and awesome! I have learned better people skills, prep work and how to keep focused on the workplace!" Here at Fresh Roots Café, we have the privilege of reminding people of their awesomeness – and they are indeed awesome!
We have also learned how impactful a smile and a cup of coffee can truly be! Here at Fresh Roots, we get to experience this in full swing! Life is indeed a series of ebbs and flows and for that reason, the Café has a pay-it-forward board that offers coffees, muffins, sandwiches and treats to anyone needing something to eat that day but where finances are a barrier.   It is one of the pillars of the Café because each one of us has times when we are thankful to give and times that we are thankful to receive.  The pay-it-forward board continues to be stocked with available items through the generosity of our awesome customers who keep an eye on it and refresh it when it looks like it's getting low.
The Café is not the only business under the Fresh Roots banner.  There is also Fresh Roots Catering, the Fresh Roots Food Forest and the Fresh Roots Gardens.  The gardens play a large role in our menu decisions and the produce from there is featured seasonally on each plate that goes out. The wooden display shelves in the Café feature dried teas, lavender, catnip from the garden and the Café freezer is always stocked with frozen soups, frozen meals, and more from our catering menu.  There are also arts and crafts items for sale by members of our CMHA programs and the community at large with 25% of the sale price going back into Fresh Roots.
Over the last year we have settled on some classic menu items, and the team is always working hard to incorporate new ones. We always feature a daily special and there's always something new to try at our pop-up dinner that happens the last Friday of the month from 4:30-6pm.  All of this helps to keep things FRESH at the Fresh Roots Café!
This has been a wonderful year full of moments we will all cherish! We are so incredibly thankful for how the community has welcomed our café throughout this past year and here's to many more anniversaries to come!
Written by Olivia Thornton, Fresh Roots Café Coordinator
Praise from the community:
"It's affordable! The breakfast is really good too."
"The moment I walk in, I know the staff are going to be friendly. The food is also great!"
"The staff are courteous; I have never seen anyone upset. They are always willing to go out of their way to help customers. Fresh roots have given the customers and staff an opportunity that never have been given anywhere else."
"This is the best place in Owen Sound to meet other people that are very positive and learning to be even more positive. Its not just about meeting people of the same nature, it's a place to grow!"
Comments from our awesome team:
"My favorite thing from the first-year open is meeting new people! Thinking about what I have learned in the café, my comment would be… What haven't I learned. Each day I am learning new things."
"Something I have enjoyed throughout the first year of the café is training people so I can go on more holidays!"
"Being welcomed into the Fresh Roots family! I have learned so much about the community and how impactful a smile and a cup of coffee can truly be."
"Something I can look back and laugh about now is how we had a catering for 150 people, and the potatoes went bad over night… we had to peel 150lbs of potatoes in an hour!!! I have learned how to run the line and feed up to 30 people at a time! Baking for hundreds of people is something new for me!! This place was in the works for a couple years and now that we have been open for a year, it has been super successful, we have our regulars, who come in every day, we have groups that come in weekly and we hook them up with muffins and coffees. The compliments to the chef, is amazing. To have regulars and have them come back every single day and order the same thing. That's so cool."
"I feel more pride in myself since I have a job working at the café! I have learned a lot about teamwork, management have taken the approach of encouraging instead of knocking us down and that has really helped me here! We respect one another, we have fun and it's a great environment to learn and grow!"
"I love when the customers compliment. It makes me feel good to know that I am doing a great job. I love people and I think I am in the right position. I have learned to be punctual and how to work in a hospitality service!"
"I have learned how to sweep up properly and when to do it when there are not a lot of people in the café! I have also learned what is appropriate to wear to work. I have also learned how to greet people and make them feel special when they come to the café! I have also learned how to help people in need, how not to make a scene, but to help them properly! One my first day, Teresa was here, and she was so helpful and encouraging. She made me feel so special. She helped me at our team meetings."
"I have learned everything!! I have learned how to be hospitable. I have learned how to cook a lot of the menu when I have the chance too! I really enjoyed catering for the Bayshore event! You meet new people and learn about things you didn't know before. You get to know people like what they are like!"
"The opportunity to learn different skills. I've made friends and some of my favourite moments are when the café is full, eating and everyone having a great time!"
"Some of my favourite memories are being able to help others. Noticing something they need and being able to help! I love the pay it forward program and knowing it is helping others."