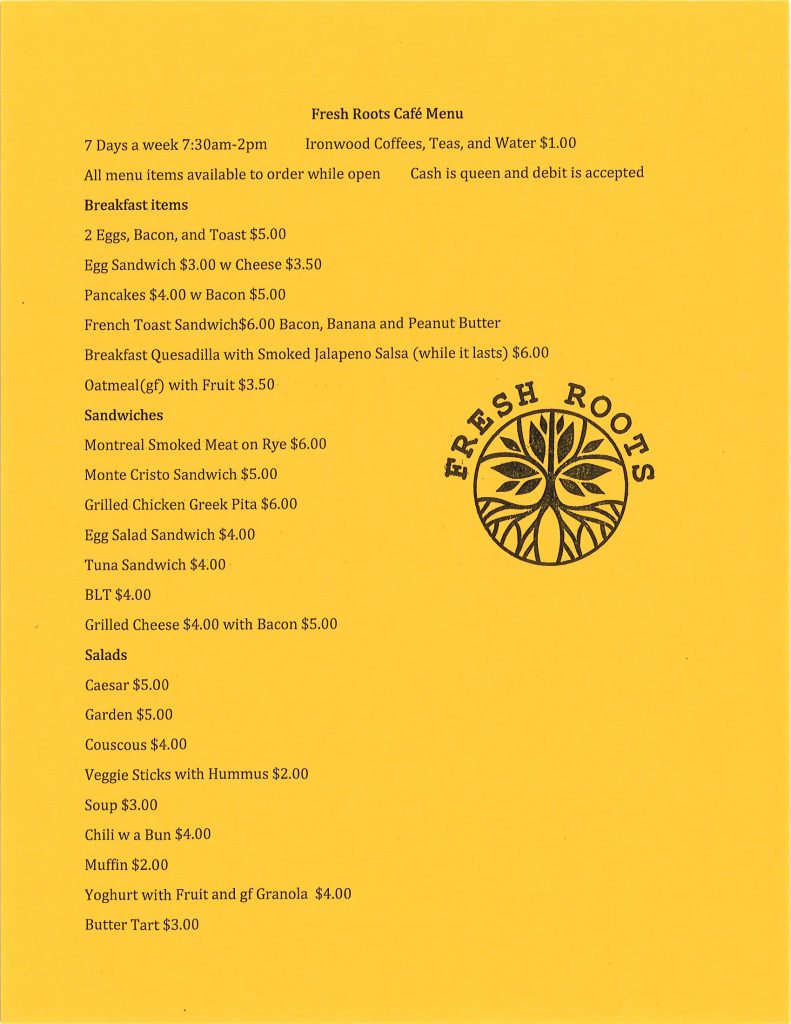 Fresh Roots Cafe and Catering is an innovative social enterprise component of Canadian Mental Health Association Grey Bruce – Mental Health and Addiction Services. The catering portion of our enterprise has been operating successfully for over 5 years.
Social enterprise business is a business with specific social objectives as its primary purpose. Maximizing profits is not our primary objective and all profits are to be put back into Fresh Roots. We employ people with mental health experience. Some have never worked and some haven't worked in a long time. I like to say I have the privilege of reminding people of their awesomeness-and they are indeed awesome!
Our prices are reasonable for everyone in the community to enjoy. There is a pay-it-forward board in our community cafe as life is indeed a circle. There are times we are thankful to give and times we are thankful to receive. We also have the Fresh Roots Food Forest and Gardens and will be growing a great deal of our own produce for items on the menu. The menu will have some standards and we will add seasonal items based on garden availability.
Our fantastic kitchen is inspected by the Grey Bruce Health Unit regularly and each of our employees working in the kitchen proudly has their Safe Food Handling certifications.
We will be selling our dried teas, lavender, frozen soups, and more. Our folks will be able to sell art and craft products with 75% going to our folks and 25% going to Fresh Roots.
Fresh Roots Cafe will be open 7 days a week 7:30 am – 2:00 pm
We look forward to welcoming each and every one of you to Fresh Roots Cafe.
Location-1028 2nd Avenue East, Owen Sound, ON N4K 2H7
Follow our page to stay updated about everything we do and some lovely pictures from our cafe opening yesterday:
Facebook- @cmhagb
Instagram- @cmhagreybruce
Can't wait to see you all there!