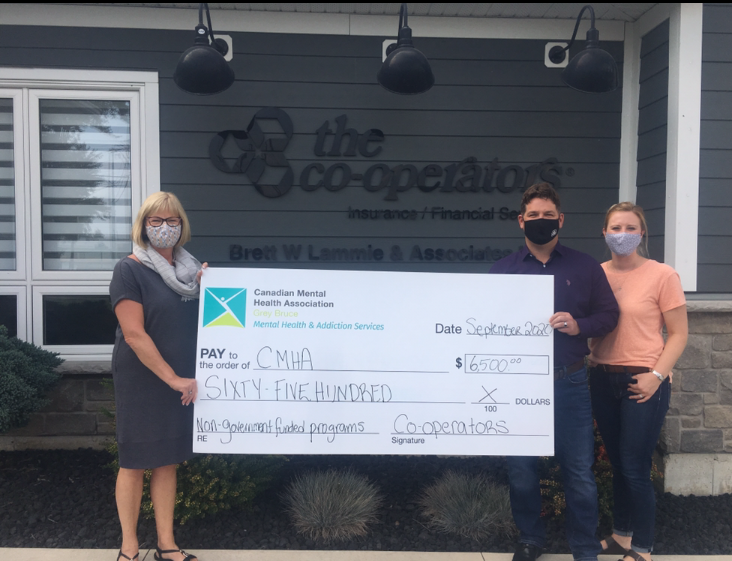 Brett W Lammie & Associates Inc. l The Co-operators makes $6,500.00 donation to CMHA during Mental Illness Awareness Week
In recognition of Mental Illness Awareness Week last week, The Co-operators is thrilled to present a $6,500.00 donation to the Canadian Mental Health Association Grey Bruce Mental Health and Addiction Services.
We are thrilled to support our local CMHA and the incredible support they provide to our community, especially during this time where people may be struggling more than ever.
The donation will specifically impact their non-government funded programs, such as their: FAN Club, Let's Talk program, community garden, ID Clinic, Food Forest, and their Fresh Roots Café & Catering.
About Co-operators Brett W. Lammie and Associates
At The Co-operators, we believe the world is a better place when we take care of the things that matter most. Together, we can help build stronger, safer communities by actively supporting distraction-free driving, mental health, flood safety and sustainability. Our staff is also committed to giving back by getting involved with local organizations, causes and events.
Visit us at https://www.cooperators.ca/local/brett-lammie-associates/community
Contact the Co-operators:
Brett Lammie
Financial Advisor
Wingham
E-mail: brett_lammie@cooperators.ca
Emilie Lammie
Associate Insurance Advisor
Wingham
E-mail: emilie_lammie@cooperators.ca