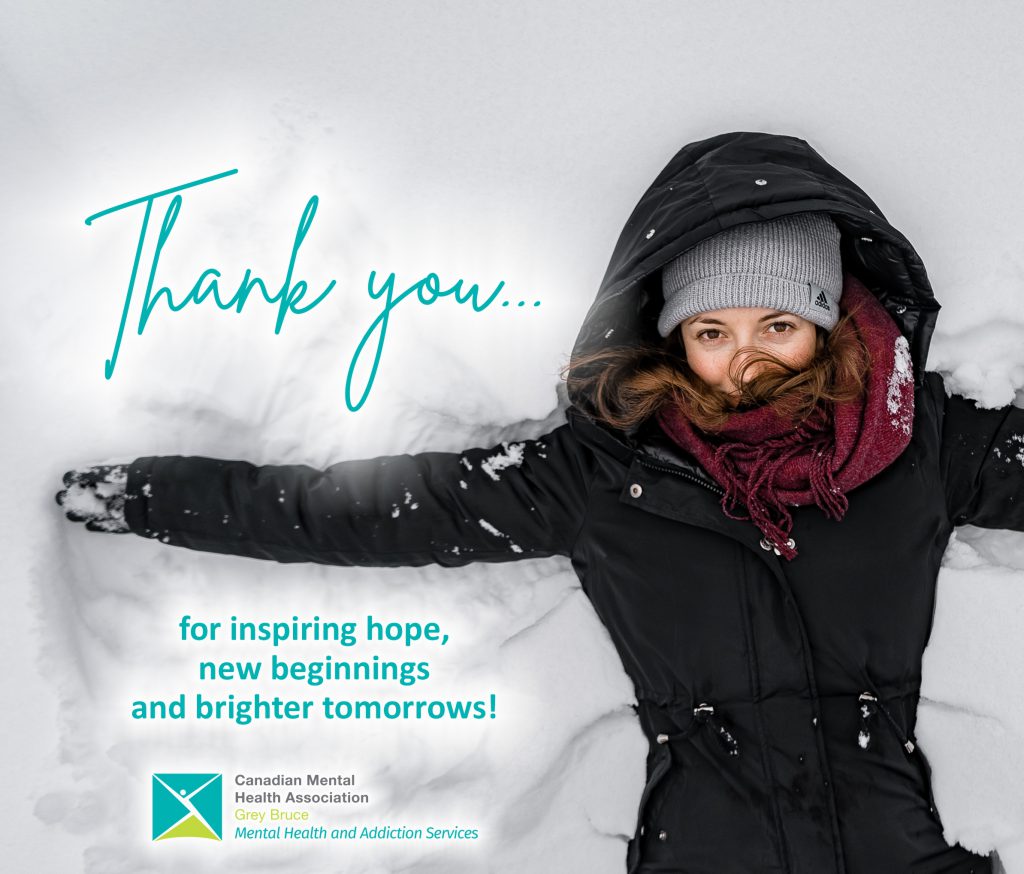 As 2022 gradually creeps to an end and a new year is just around the corner, we are reflecting upon this last year with humble hearts and immense gratitude.
In the last 12 months, CMHA Grey Bruce has witnessed a steady and increased need for mental health and addiction services. From 2021 to 2022, our organization served over 2000 clients across Grey-Bruce. The pandemic has not been kind to our mental health and wellbeing and we have seen this first hand in our programming and front line work. People from every walk of life are experiencing challenges. Some say they have never experienced mental illness before and for others, their pre-existing conditions were magnified. It's important to note that anyone of us can face struggles. Mental illness does not discriminate.
What does shine bright this past year is that we have an amazing and committed community that comes together to support those struggling during this heightened time of need. We have so many people to thank and that includes all of our incredible donors, corporate supporters, our event hosts and participants, our sponsors and volunteers and all of our community members who, like us, believe in "mental health for all" and do what they can to support our efforts.
An extra special thank you goes out to Greg and Tawnia Courage for hosting the "1st Annual Walk for Courage" in memory of their son Jeff, to Ian Sinclair for his extremely successful Pony (Tail) Up fundraiser, to Olivia Sroka for walking the entire Bruce Trail from start to finish as part of her "Get Outside and Live Your Trail for Mental Health" fundraiser, to the Pick Up Game Band for their concert fundraiser in support of suicide education and prevention in memory of fellow band member – Ryan, to everyone who supported the Reindeer Romp event even though a major snow storm forced it be cancelled, to everyone who rode, donated or sponsored our Annual Ride Don't Hide event – thank you so much, and to the Knights of Columbus for hosting their weekly Radio Bingo for charity – thank you for supporting our Youth Mental Health programming!
Thank you! Thank you! THANK YOU! We see and appreciate each and every one of you. Thank you for making a profound difference to so many!
Looking forward to 2023, we know that the need for mental health and addiction services is particularly high and we know that our work is not done. We give thanks to our committed CMHAGB team for all their hard work and dedication. You impact lives each and every day – thank you for that.
Thank you all. We wish everyone the very best for 2023. May it be a year of hope and possibility.