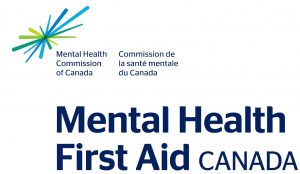 One in five of us will experience a mental health problem by the age of 24.
Do you know how to help?
First Aid is the help given to an injured person before medical treatment can be obtained.  Mental Health First Aid is the help given to someone developing a mental health problem or is experiencing a mental health crisis until appropriate professional treatment is received or until the crisis is resolved.  Mental health problems often first develop during adolescence or early adulthood, with half of all mental disorders beginning by age 14, and 75% beginning by age 24. This course does not teach you to be a therapist, or counsellor but in 14 hours you will learn:
To identify when a person may be in danger
Basic actions for mental health first aid
Information on effective intervention and treatments
Where and how to get help locally
Signs and symptoms of the following common mental health problems and how to provide help in the following crisis situations:
Mental Health Problems                          Crisis Situations
Substance abuse disorders                       Overdose
Eating Disorders                                         Suicidal Behaviour
Anxiety disorders                                        Panic Attacks
Psychosis                                                    Acute Psychosis
Mood Disorders                                          Reactions to traumatic events
Deliberate Self-Injury
Cost:  $135.00 per person
Location:  Please note Day 1 of this training will be held at the Xchange Centre Downtown Owen Sound and Day 2 will be held at the Knights of Columbus Hall.  
Includes:   Fresh Roots Café catered lunch, coffee/tea, manual & certificate.
To register for this training, please go to: 
https://www.zeffy.com/en-CA/ticketing/30aca98d-43ed-4a48-9609-93d9940e7486
For more information about this program, contact Jackie at jralph@cmhagb.org.